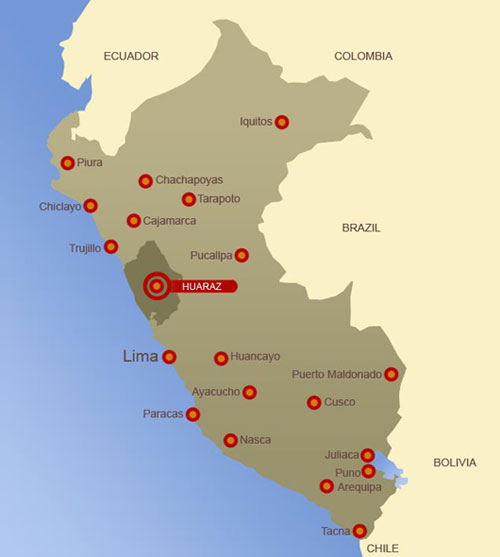 The province of Ancash is in the northwest of Peru . It has the privilege of harboring within its territory all the different landscapes of the world. On one side it is washed by the waters of the Pacific Ocean and on the other shaded by the Andes Mountain Range. Due to its diverse geography, the climate in the province also varies significantly. It is often warm on the coast while cold in the mountains, for example, although the mornings are fresh and mild throughout the year.
The coastal city of Chimbote is among the biggest fishing ports in the world and also the centre of the Peruvian steel industry. Huaráz is the capital of Ancash, situated 408km from Lima at an altitude of over 3,000m. With an expanse of 35,826km² and a population of 1,014,218 inhabitants (1995 census), Ancash is an area of awesome peaks and profound valleys where life abounds.
Huaráz lies in the heart of the Andes, where it divides into two ranges, the Cordillera Negra and the Cordillera Blanca (the Black and the White Mountains , the latter snow capped). To the south is the Huayhuash Mountain Range, considered one of the most beautiful in the world on account of its scenic treks, imposing mountains and pretty lakes.
Settlement in the Huaráz area has been continuous and dates back to prehistoric times. The Chavín Culture (c.1000 – 200BC), the most important early civilization in the area, practiced religious worship and is remarkable for its ceramics and stone sculpture.
When the Spanish arrived to what is Huaráz today in search of gold and silver they caused terrible destruction. In the attempt to seize control over the rich natural resources of the region, at whatever cost, Francisco Pizarro used overwhelming force. However, the inhabitants of the region, the Huaylas and the Conchucos, refused to be conquered though their resistance cost thousands of deaths. This is one of the reasons for which there is no officially recognized date for the founding of the city, in spite of some unreliable versions that claim the contrary.
Huaráz did not achieve significant importance during the colonial era, as other cities did, which is a reason for the lack of grand colonial houses remaining today. There was widespread maltreatment of the indigenous population during this era, however, evidenced by the series of confrontations that took place between the authorities and the clergy, who sought a more humane treatment.